Ass-Kicking? Moi?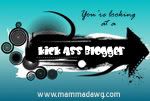 Thanks to one of my closest interweb friends, Carrisa, I was given the Kick Ass Blogger Award. I'm not sure what I did to warrant this…clearly, it's not for centering the award or otherwise manipulating the text to wrap around the g.d. graphic WHAT IS WITH WORDPRESS LATELY?
Ahem. I digress..
Not since my August 1998 Little Caesar's Employee of the Month award have I been been so surprised by such an honor!
Unlike my aforementioned Little Caesar's Employee of the Month award, the Kick Ass Blogger Award does not come with a big button to wear on my pleather apron or $25 in cold hard cash, but it does allow for me to pass along the love to five other kick ass bloggers!
Just 5? In no particular order, five kick ass bloggers that I heart long time are:
* Britt at Fluent Brittish — I'm not sure what took me so dang long to catch on to her blog, as she's a friend of my BBF, Isabel, but HELLO, this girl cracks me up! I love her! I know when we meet, one of us will end up in a head lock and someone may pee themselves.
* Liza at Liza Was Here — this woman has a lot going on in her life, and she's willing to share it with the interweb! While writing grammatically correct and thoughtful posts here and at Deep South Moms, Liza still finds time to support her friends and kick ass!
* Jen at Keep Passing the Open Windows — I wish Jen and I were neighbors (ok, that's true of many of you!). I love her blog, her stories, and her comments. Her posts tend to be shorter than average, which is GREAT for reading at work or getting to the hysterical point…kind of like what SNL should do.
* La Turista — I fell for this hilarious chica as soon as I read her. I just loved her immediately & feel like even if we haven't blogged or commented in a couple of months, we can catch up without all the awkwardness. She doesn't appear to take blogging too seriously, which I admire.
* Kristabella – She tells a good story and isn't afraid to laugh at herself! Next time I visit Chicago, I'm buying this kick ass blogger a glass o' fine wine.
Thank you, again, Carrisa, for the award. You made my night!
*****
Check out New To Us… I finally blogged about the Nugget!
Posted by Mrs. Squirrel @ 8:22 pm
RSS feed for comments on this post.
TrackBack URI
7 Responses to "Ass-Kicking? Moi?"
I love your fantasy of us meeting. I admit I'm likely to pee, but then again, you've had one more baby than I have, so maybe we'll both pee…. together… because that's what friends do. But the best part? We can blog about our pee fest later. Oh yes! It will be awesome!

And thank you for allowing me to kick ass.

Kisses.

All worthy of the award!

(And Kristabella is a hoot to drink with!)

Congrats on the honor, Ass Kicker!

1998? Were you two-timing CRI and moonlighting at Lil' Ceez?

You like me? You really like me?

I, too, wish we were neighbors. As it is, I'm stuck with all these crazy too-frequently mowing old timers who make our lawn look like shit in comparison! Plus, I could see your precious kiddos and take care of that baby craving in a way that doesn't involve a future teenager in the house!

Well aren't you just a little ray of sunshine?! Thanks so much! On a day when I really need some sunshine – and painkillers – for my seashell-related injury. More on that when the buzz wears off.

yeah, should i be taking it personal that i am not an ass kicking blogger?
oh wait: i'd actually have to BLOG REGULARLY to qualify.
i understand.

Well, I'm like two weeks late, but THANK YOU!

And yes, if you're ever in town we're so drinking!
Leave a Reply